All Inclusive Advice & Training is proud to support the local community. We have been helping organise various events across the borough over the past 10 years. Below are some of the highlights that we have been lucky enough to be associated with.
Graduation Ceremony 2019
As acknowledgement of their hard work, All Inclusive Advice and Training organised a graduation ceremony for all our students who graduated in 2019, for their magnificent achievement over the past year! A big thank you to everyone who came to the ceremony to support the students.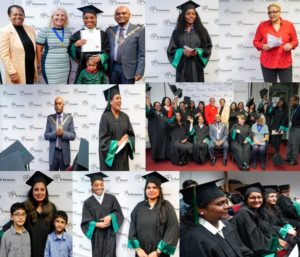 Young Leaders Presentation Ceremony – CVA community Showcase
As an acknowledgement of their hard work for the Croydon Carnival of Cultures, students from Harris South Norwood and Harris Invictus were invited to the CVA Community showcase. Here they were presented with an OCN Level 1 Award in Leadership by the Mayor of Croydon. They received training for this qualification at All Inclusive Advice & Training. 
Cut it Out Charity Football Match 2019
We Had a great time at the Cut it Out 2019 Charity Football Match, raising awareness and tackling knife crime in Croydon. The icing on the cake was our team winning the ladies football match! 
---
Croydon Business Awards
With the Mayor of Croydon at the Croydon Business Awards 2018, where we won the Best Charity/Social Enterprise award and Julie Agbowu (The CEO) won the Women in Business award.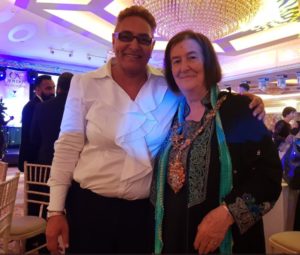 ---
London Mayor in Croydon
Julie, the director of All Inclusive Training, met London Mayor Sadiq Khan during his 2016 campaign trail in Croydon!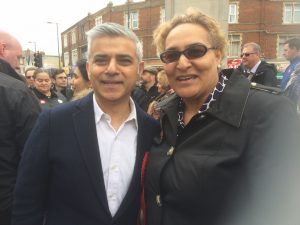 ---
Unveiling New Courses in Croydon
The Mayor of Croydon cut the ribbon with Julie, from All Inclusive Training, and Croydon MP Malcolm Wicks. This was to unveil additional training courses at the CVA resource centre.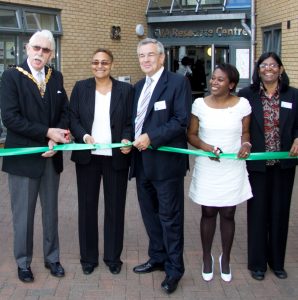 ---
Resilient Healthy Lives
We promoted activities at The Foyer in Croydon, to tie in with the theme of healthy eating. There were competitions to see who could create a healthy eating shopping list within a £20 budget. The winner got a shopping voucher to buy their own healthy food. Congratulations to our winner below!
Royal Visit
HRH Prince Charles and Camilla Duchess of Cornwall chatted to musician Ayan Ayandosu aka Ayan De First and African drummers the Oduwa Talking Drummers on London Road, on September 20, 2012. The Prince of Wales and Duchess of Cornwall met local residents, shopkeepers, faith leaders and community leaders at Croydon Voluntary Action (CVA) to discuss progress made by members of the community a year on from the August 2011 riots which took place in the vicinity.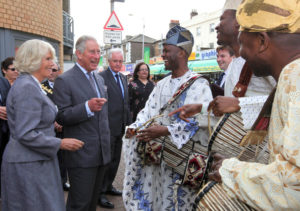 West Croydon Carnival of Cultures
All Inclusive Training has been proud to support the West Croydon Carnival of Cultures on London Road since 2012. We were delighted to put on such a promising show, as part of London Road Business Association, with dancers, singers, children's funfair's, and food from across the world!

Play Days
In August 2010 we received funding to run Play Days to promote the newly built playground in Green Lane Sports Ground, Thornton Heath.  Play Day is an annual national campaign celebrating a child's right to play outside.  Over 50 young people participated and everyone had a great time, in spite of the weather!  The video below shows some photos of what went on…